REWARDS


|


SCHEDULE


|


HOW TO JOIN AND PLAY


Commanders!
A new month means a new set of exciting tournaments with great rewards. Keep it low-tier or test your skills against the best commanders at the highest level. Go at it alone, or team up and take the crown as a Platoon. Every day of the week, there are new tournaments waiting for you. Check the schedule and sign up!
Not sure how to take part in tournaments? No worries! We have prepared


a short video


that will guide you through the process.
---
March Rewards

Every day, heaps of gold are up for grabs! So, don't miss out!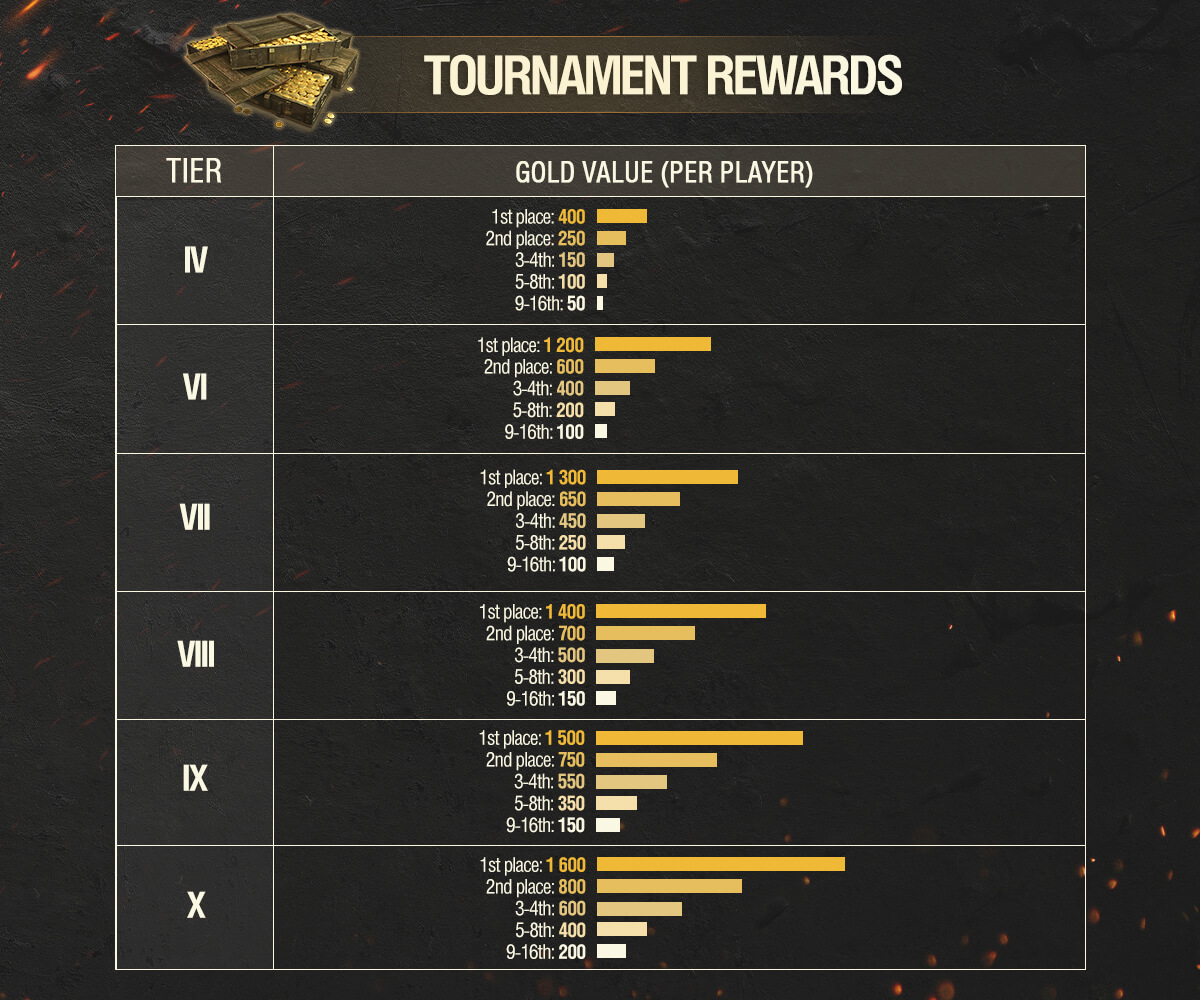 ---
March Tournament Schedule


The schedule remains the same every week for the entire month. The times below are given in UTC+1 and will remain the same for CET and CEST.


Monday


Tuesday


Wednesday


Thursday


Friday


Saturday


Sunday


15:00

1v1 T4
2v2 T4
1v1 T4
2v2 T4
1v1 T4
1v1 T6
1v1 T6

17:00

1v1 T6
2v2 T6
1v1 T6
2v2 T6
1v1 T6
1v1 T8
2v2 T10

19:00

1v1 T8
2v2 T8
1v1 T8
2v2 T8
1v1 T8
3v3 T9
3v3 T10

20:00

1v1 T10
2v2 T10
1v1 T10
2v2 T10
1v1 T10
1v1 T9
1v1 T8

21:00

3v3 T10
3v3 T10
3v3 T10
3v3 T10
3v3 T10
5v5 T9
5v5 T10


Important:


Timeslots will be adjusted to CEST–1 (UTC+1)


from March 28 onwards


to ensure that the stated tournament times remain the same. For example, a 15:00 CET tournament will take place at 15:00 CEST after March 28.
Are you up for the challenge? Head over to the registration page and join any of our tournaments.
Tournament registration usually becomes available 48 hours ahead of the scheduled start time.
---
How to Join and Play

Are you new to tournaments or unsure how to get involved? Check out the video and tournament guide below to get all the info, plus useful tips and tricks that you'll need to get started and get ahead!
Do you have


any further questions


? Are you looking for


teammates


? Go to the


Tournament Forum


for more information!
---

Roll Out!